"…easy to read, has plenty of case studies to illustrate the issues being discussed and includes personal experiences. It is this personal element in the book that makes it so accessible. Rating: 4 Stars"-The Chemical Engineer
"Excellent! This book covers a range of topics, and each of them is in an easy to digest format. I would recommend this book to all engineers and operational staff working in hazardous industries. They will definitely learn something and that learning could be vital, although I hope they never know it!" – Amazon review (5 stars)
This book is about the engineering management of hazardous industries, such as oil and gas production, hydrocarbon refining, nuclear power and the manufacture of chemicals and pharmaceuticals. Its scope includes:
An overview of design standards and processes for high integrity systems.
An overview of safety management processes as applied to hazardous industries.
Best practices in design, operations, maintenance and regulation.
(1) Any 'common cause' between the BP Texas City refinery accident of 2005 and the BP Deepwater Horizon/Macondo accident of 2011 was not immediately apparent. However, the CSB's 2016 report showed that risk management improvements that were supposed to be implemented after the Texas City accident across all BP sites had not in fact been implemented for the Macondo project.
(2) The 1957 Kyshtym accident was a fascinating case study that I would have liked to include in the book, but I ran out of time. An article I subsequently wrote about this accident can be found here.
(3) Chapter 12 included a discussion of the 1998 Equilon Anacortes coking plant accident which killed six workers. I've updated my account of this accident in a presentation that can be found here.
(4) Chapter 11 contained extensive discussion about the 1980 Saudia 163 disaster which killed 301 people after the aircraft had landed successfully with an onboard fire. The Saudi accident report blamed the captain for neither halting the aircraft quickly nor ordering evacuation. This strange accident seemed difficult to understand. New information, from someone close to the original investigation, demonstrates that fire-induced partial hydraulic failure (which affected the wheel brakes) combined with errors by the flight engineer (which meant the fuselage remained pressurised so the doors could not be opened) were the causes of the accident. A detailed re-assessment of the Saudia 163 accident is presented here.
Used copies are sometimes available on Amazon.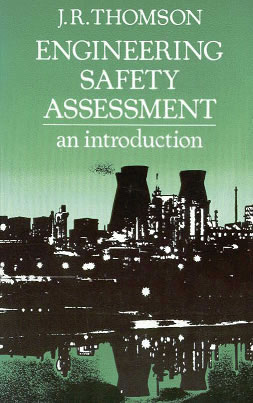 'Engineering Safety Assessment' download pdf
Downloads about Nuclear Power
These are pdf's of Powerpoint presentations that address basic (but important) aspects of nuclear powerv
Downloads: Safety Management and High-integrity C&I
A. Safety Management and Analysis